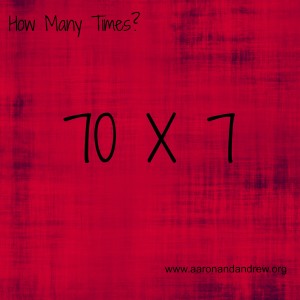 Have you ever done the same thing over and over again till you finally believe that it's just one time too many, and you cannot in all "honesty" participate in God's forgiveness.
You tell God, "I know that you say you will forgive 70×7, but I passed that a long time ago.  I have prayed, and I still mess up.  I love you, I really do – but I still mess up!  I don't deserve You, so I'm just not gonna ask for your forgiveness again!"
Oh but the good news is this – JESUS CAME!
The good news is this – JESUS DIED!
And the GOOD NEWS IS THIS – JESUS ROSE!
In the upper room, He said, "This is My blood of the covenant, which is poured out for many for the forgiveness of sins." (Matthew 26:28)
What is that sin you are trying so hard to deal with?
it is covered by the blood of Jesus.  Bring it to Him again, and KNOW that you are His.  He loves you enough to hang in there and bring victory to your life!
It's not how many times you've done something. It's how many times He's done something. It took him one time to forgive us. We just need to be reminded.